By Jaap Boender

Anerley Town Hall, London - 4 June 2016
It is a dark time for the Lombard League. Although Emperor Barbarossa's
attempt to bring the city-states of Northern Italy under his control has been
thwarted, his grandson Frederick, the Holy Roman Emperor, is trying to
accomplish what his grandfather could not. Imperial troops have just defeated
the combined armies of the League, and only four cities are left to withstand
him. Will he be able to finally bring Northern Italy to heel, or will Liberty
prevail?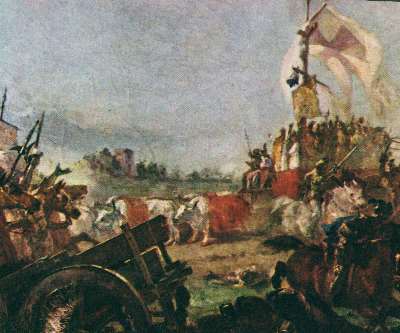 This is a game about the High Middle Ages in Northern Italy. Nominally, the
Holy Roman Emperor has authority over the city-states, but in practice they
are completely autonomous. The game will portray the events of the late 1230s
and early 1240s, just after the Battle of Cortenuova - the last attempt by any
Emperor to keep the developing city-states in Northern Italy under control.
To make things worse, there is unrest within the city-states too. Until now,
power used to be firmly in the hands of the aristocracy, but the merchants who
are responsible for much of the economic progress want to have their say in
governmental affairs as well. The aristocracy itself is split into two parties
- the Guelphs that want more autonomy, and the Ghibellines that support the
Emperor.
Players will be assuming the roles of important individuals in the different city-states in Northern Italy - Milan, Bologna, Venice, and many others - or of the Emperor and his supporters. The result of this struggle will have repercussions over all of Europe - so who will win...Guelphs, or Ghibellines?
To book on the game, email us. If you have been to one of our megagames before then just let us have your name and role preference. If you haven't been to one of our megagames before please also include your full name, postal address, mobile and contact email.