The date is November 1921. The place is Washington DC - the hall of the Daughters of the American Revolution conference centre. 1918 saw the end of the "war to end wars". The United States was the architect of the peace settlement and of the League of Nations, but internal difficulties have stopped its participation. Nevertheless, the pressure to work with others has led to the USA initiating this conference.
The government of the United States of America has invited delegates to Washington to discuss the current international situation in the Pacific, to agree to ways of easing tension and, most importantly, to agree to limit expenditure on arms - particularly on the navy. The intention is to run two parallel tracks to the conference. The first track will deal with the naval and military matters while the second track will deal with political and diplomatic matters. Inevitably, the two will be closely linked - it is inconceivable that any agreement could be made on restricting fleet sizes without some accompanying way of reducing tension.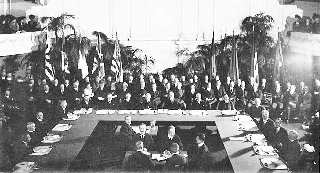 There are two big issues in front of the conference: the size of the battleship fleets and the status of China. There are, however, many other issues on the other types of ship in the fleet, on fleet bases, on the use of submarines in warfare, the use of chemical gases in warfare, the status of the mandates agreed in Versailles and on and on. A number of these issues have been placed on the agenda by the League of Nations and those who are in the League regard this conference as a fully empowered committee of the League.
The conference is expected to achieve treaties on the limitation of naval expenditure and on the issue of China. Additionally, the conference is expected to set out the way that warfare should be conducted (rules for air warfare, submarine warfare, targeting of civilians and the use of gas).
Players will take on the role of senior diplomats, politicians, military chiefs or members of the press. This is the second time we have put this game on. It is a game of negotiation and politics. For most countries, the roles available will be political or military. For China, there are only political roles and the press all act together.
Roles include: Italy, USA, Japan, Press, Netherlands, UK, China, Italy